Shilo's a Dick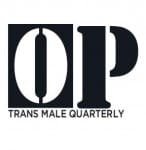 Most dudes dream of dick. By that I mean at one point or another most every trans guy has dreamt of having a dick of their own or having a bigger dick or having a dick in them. You get the point, guys like dick in someway or another. I myself spent the better part of my first years on T obsessing over it.
Alas, I am cash poor and don't want to have anymore surgery. So I searched for a dick that made sense. I don't love packing without purpose. Mostly because if I'm gonna "do it" at the end of the day, I never know how to casually slip off my stinky, sweaty limp packer without feeling humiliated and utterly turned off. If I am gonna pack, I want to be able to fuck with that dick too. But I'm short and I wear skinny jeans, so I can't exactly shove a donkey dick down there without looking obscene.
Read full article here.
Everything You Need To Know About 3D Printing Your Dick's Doppelganger
It's Thursday: Why Not Make a Custom Dildo of Your Dong?
3D Penis Print-Outs From 3DEA Are The Future Of Dildos
Cheap 3D printers fuel home-printed sex toy "phenomenon"
Justin Bieber, Hello Kitty, and other 3D-printed dildos