Vibe your way into spring
This year we've decided to offer some high quality vibrators.
We're so pleased to announce that we have our very own rechargeable vibrating bullet. This vibe has 10 modes and is waterproof! Oh yea! It is small and quiet and has a travel lock. Easy to charge – plugs into to any USB port and its $24 bucks! The vibe is a pretty standard size and fits into our love bump as well!
Drum roll please. we are now offering the official HITACHI MAGIC WAND. We've purchased them straight from the manufacturer these are the real ones, and oh yea, they are powerful!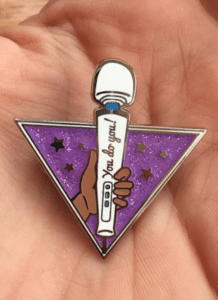 We've got the classic (my personal fav vibe for the past 5 years) and we've got the rechargeable which is quickly being a daily favorite. The classic Hitachi Magic Wand is great it plugs into the wall and has a ton of power which translates into a whole lot of pleasure. The head is elastomer so if you plan on sharing it just use a barrier like a condom and you'll be good to go. $59
The new rechargeable Hitachi Magic Wand has some upgrades. It is rechargeable so no cord- and great for travel, camping, play parties and partner play. The rechargeable Magic Wand also has more settings, there are 4 intensity levels and 4 vibrational patterns. The new rechargeable magic wand also has more settings to choose from so if you like toys with options this is def a plus. The battery is also really good it can hold a charge for 3 hours and has a built in auto shut off to conserve power. One of the best upgrades with the new rechargeable magic wand is the silicone head. The silicone head is removable and easily sterilizable so it is a great choice if you are planning on sharing your toys.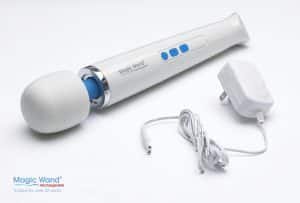 Hitachi Magic Wands offer have a bunch of accessories you can add too, different toppers and heads so if you like it you can keep adding to it and use it in countless ways. Oh and it is a good back massager too.