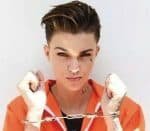 Ruby Rose is the latest in a long line of happy users who have found the happiness that coms from having a toy from New York Toy collective.
The newest cast member from Orange Is The New Black donned our best selling toy the Shilo in her new music video Break Free.
Ruby describes the video as "A short film about gender roles, Trans, and what it is like to have an identity that deviates from the status quo.".  You can see it below and our cameo at the 3:29 mark.
[embedyt]https://www.youtube.com/watch?v=EFjsSSDLl8w[/embedyt]
But wait there's more.  Ruby released a behind the scenes look of the making of the Break Free video where she not only wears it but puts it to work.
This isn't the last you'll see a New York Toy Collective product in the news. We predict TV stars from other big shows will be seen proudly wearing our products. So watch closely the next time you're viewing Game Of Thrones,  Supergirl, or the upcoming Republican debates.
You can see the whole behind the scenes video below (Shilo cameo at the 3:20 mark )
[embedyt]https://www.youtube.com/watch?v=xpLLftkG_IY[/embedyt]