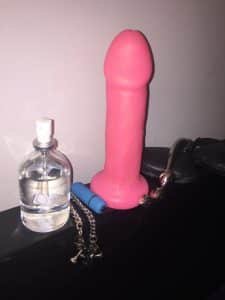 You never know when or where the mood will strike, be prepared!  Perfect for  a spontaneous sexy trip, or play party, always be ready with some basic supplies!
Sex Toys – YAYAYAYAYAYA!

Unless you're already wearing our perfect pack and play Shilo, you'll want your go-to dildo within reach
Anal plugs and Mini Vibes are great for added stimulation!
Nipple clamps and cock rings are super compact and easy to pack

Accessories

Strapon Harness – we recommend the spare parts Joque, so comfortable, you can put it on before you go so you don't waste a single second of sexy time
Blindfolds – limiting some senses can heighten others ?
Scarves are great multi-purpose items! They can be blindfolds, restraints, even a harness!
Lube!  Water-based lubricants are recommended for use with silicone toys!  Silicone lube is super long lasting and is a great pairing for glass and metal toys.

Safer Sex Supplies

If you aren't able to wash off all the dust bunnies on your silicone toys, just throw a condom over it!
Innie Condoms are the most under-rated safer sex supply I know of. They are perfect for anal play, e
specially when you want to use one toy in both your lover's front hole and back hole.
Gloves, gloves, gloves. For when you don't have time to wash your hands, they also make a great dental dam, especially great if you want to have a little pocket for your tounge/clit/dick.
Stay Safe and Have Fun!
<3 New York Toy Collective <3