An overview of why someone might want to stand to pee from public bathrooms, camping and combat.
As the owners of adult toy company New York Toy Collective we've had countless requests for a representational silicone STP (Stand-To- Pee). For those that are unfamiliar with STPs, they are products that allow folks without penises to pee while standing up.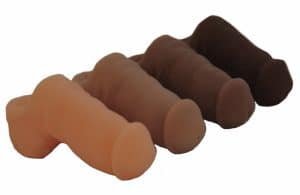 STPs come in a variety of forms, the two most common forms are representational (looks like a penis) and non-representational (does not look like a penis). In March of 2016 New York Toy Collective debuted Sam a representational silicone STP available in four skin tones. For those looking for a non-representational STP we offer the PStyle in a variety of colors. In fact, STP devices are so helpful that are given to women in US Military during deployment to Iraq.
Standing up to pee is useful in many situations. For some people that identify as transgender or as gender non-conforming, standing up to pee can be essential in public rest rooms or urinals. Not all transgender or gender non-conforming people use STPs; some people do, and some people don't. Some people find that STPs (and packers) help with dysphoria and confidence, while others use them as a matter of safety, and some simply for the aesthetic.
STPs offer a great convenience for those that do not identify as transgender or gender non-conforming. Standing up to pee is offers connivence, safety and ease. Standing up to pee makes using public rest rooms, particularly dirty ones, much easier- they are also great for nightclubs, and camping trips. For those of us that are used to traveling and squatting or lining dirty wet toilets bowls standing to pee offers a great convenience saving time, energy, and peace of mind.