We're so excited about the 16th annual Philadelphia Trans Health Conference Thurs, Sept 7th – Sat, Sept 9th,  we can't wait to tell you all about all the exciting stuff we'll have at our booth!!!  The Philly Trans Health Conference is an all ages event, and general registration is FREE!
First, we'll be at PTHC with our New York Toy Collective Factory Store.  That means very special pricing for our *factory grade packers and STPs.  Live events, like Philadelphia Trans Health Conference, are the ONLY time we sell factory grade products, so it's the perfect time to stock up.  Bundle up for even deeper discounts!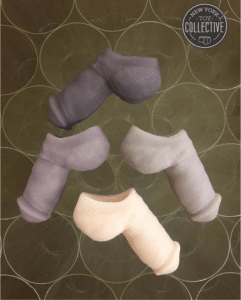 Second, we'll be debuting our STP packing strap for the first time ever!!!!  These straps will allow you to pack Sam's shaft up or down, and will also accommodate our silicone packers, Archer and Pierre.  We'll have complimentary measuring tape as well as a dressing room so you'll be guaranteed a perfect fit on the spot!  Sizes will accommodate a 14″ to 37″ thigh.  Stop by our booth early before your size sells out!  Don't worry though, we can take your order at the conference and ship within 2 weeks, and we will take special orders for folks that fall outside of the stated size range!
Third, we'll also be introducing our magnetic packer pouches in navy and black!  These pouches measure 6″ long by 4″ wide and will accommodate Archer and Pierre perfectly, as well as any packers that size or smaller.  Just place the packer in the pouch and attach to any pair of boxers, briefs or even jock straps with super strong magnets that will hold up 9 lbs. of pulling and tugging.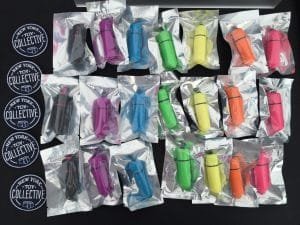 Finally, use the password "SUNSHINE" at our booth for a Free Bullet Vibe or NYTC Patch!
(No purchase required, limit one per customer while supplies last)
*Factory grade products have minor irregularities in pigment or shape, or a small air bubble.  We never sell imperfect products to our retailers, but these packers and STPs work perfectly, and most people would never notice the difference!